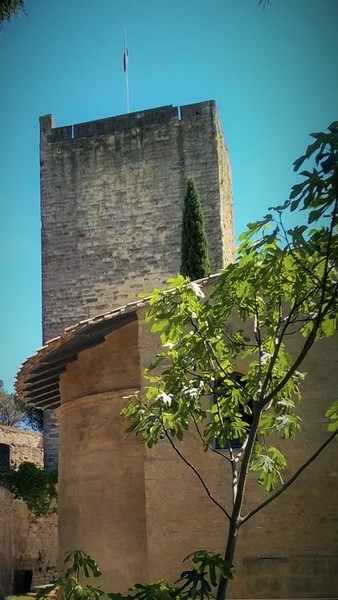 Welcome to Sommières castle! See the secrets of this 1000-year-old site...
Visit the fortress alone, as a couple, with your family or in a group.
An original and amusing visit to discover the history of the town of Sommières and its castle in the Gard département. Follow the footsteps of the seigneurs Bermond d'Anduze et Sauve, Louis IX (the future 'Saint Louis') and protestant prisoners.
Enjoy an independent visit, at your own speed, of ten centuries of building or as a visit with a heritage guide to look at the details of defensive architecture:
the tower and its apron wall 
Saint Sauveur royal chapel
accommodation
the  faussebraye
the bastion
Try history in a different way!
Imagine a view of the many facets of the castle with digital displays in the royal chapel, workshops for children,  "Rendez-vous au château" events in summer evenings, large wooden games for having fun at the foot of the tower, etc.  
The castle has been a listed historical building since 2010.
Sommières castle has changed ceaselessly since the 11th century. It has buildings that show the strategic position that it held for several centuries and traces of the many sieges suffered in times of war.
After being a seigneurial fortification, it became a military stronghold. It went though the turpitudes of the Wars of Religion and the War of the Camisards, was used as a prison—especially for male and female Protestants—before declining in the 18th century.
Divided up in the 19th century and turned into a district of the town, the castle was gradually abandoned during the following century. In 1936, two water tanks were built inside the ramparts, irreversibly changing the parade ground.
The entire castle  was entered by order in the Inventory of Historical Monuments on 8 September 2010.